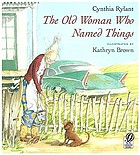 Author: Cynthia Rylant
Illustrator: Kathryn Brown
Published 1996
The
Old Woman Who Named Things
is about a woman who has outlived all of her friends. She doesn't want to be lonely so she names everything that she knows will outlive her. She has named her chair, her car, her bed, and her house. She doesn't name the gate because it's not going to make it much longer. Then one day, a stray puppy visits her house. She feeds him, but sends him off because she does not want to name him. What if she outlives him? She feeds the puppy, who grows to be a dog, for months and sends him on his way until one day the dog does not show up. The woman becomes sad that the dog does not visit so she jumps into her car, Betsy, and heads out in search of the unnamed dog.
*Spoiler Alert* :-)
She finds the dog at the dogcatcher's kennel. It is then that she remembers all of her lovely friends and remembers how lucky she had been to know them. So, she decides to the name the dog...Lucky.
This story reminds me of a cliché, "it is better to have loved and lost than never to have loved at all." This is what the old woman remembers as she is searching for the dog. She is lucky to find the dog, she is lucky to have his love, and he is lucky to have her to care for him.
The illustrations in this book were done in watercolor. The pictures are light and beautiful. I especially notice the colors in the old lady's garden and the wind blowing through the dog's fur as the old woman, Betsey, and Lucky ride back to their home from the kennel together.
Learn more about this book and check it out from your library.